Color fastness is one of the strict requirements of plastic materials. However, the nature of any type of color has 'life expectancy' and this life expectancy is highly dependent on the impact of weather factors such as sunlight, rain and dew. Therefore, after a certain period of use, the plastic material will be decolored, the mechanical and physical properties will decline, resulting in brittle and broken materials. To accurately assess the color fastness of the input material as well as the color masterbatch and UV-resistant plastic particles to provide customers with the most accurate data of product quality, Masterbatch Vietnam Co., Ltd. has invested in the Lab & QC department 'QUV weather resistance testing equipment – QUV/se'.
'.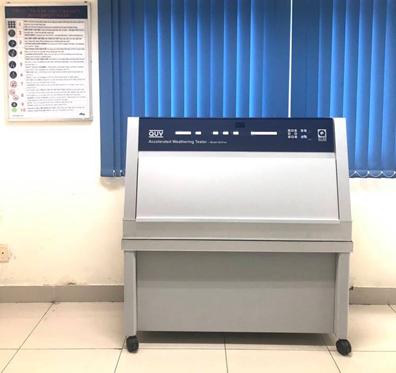 + Light Cycle Temp:                          45-80
+ Condensation Cycle Temp:              40-60
Specimen Exposure Area: 20 x 50 cm (2x each side). 4000 cm2 total
Specimen Capacity: 48 Specimens (75 x 150 mm)
Inlet Water Pressure: 2-5.5 bar (2-80 psi)
Inlet Water Purity: Tap Water
Water Consumption for Condensation 5 liters/day
UV Fluorescent Lamps – 40W: 8pcs (T12 x 121 cm long)
Specimen Orientation: 75° (measured from horizontal)
External Dimensions (w x h x d) 137 x 135 x 53 cm (54 x 53 x 21 in)
Weight: 136 kg (300 lbs)
Electrical Requirements: 120V ± 10%, 1- Φ, 60 Hz, 16A ; 230V ± 10%, 1- Φ, 50/60 Hz, 8A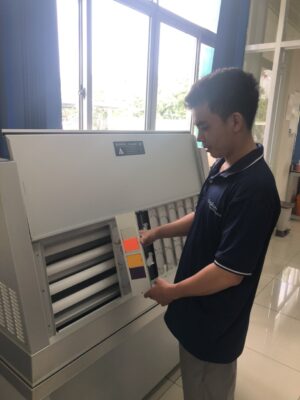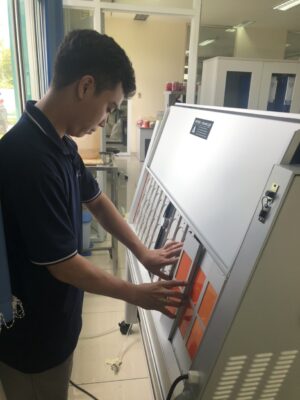 In a few days or weeks, the QUV can reproduce the damage that occurs over months or years outdoors due to sunlight, rain and mist on the material. To simulate outdoor weathering, the QUV accelerated weather tester exposes materials to alternating cycles of UV light and moisture at controlled, elevated temperatures.  It simulates the effects of sunlight using special fluorescent UV lamps; it simulates dew and rain with condensing humidity.